As I have mentioned in the past, I'm not a fan of the "star" ranking system for scholastic athletes. My disagreement with the system as with most disagreements stem from a personal space.  But I feel very safe in my personal a****sment that my emotion has not clouded my perspective, it has only fueled my desire to expose the fallacy of the rating system.
I'm a realist that understands a 6'2'' 265 pound Le'Charles Bentley in 1998 wouldn't exactly set the recruiting world on fire with his measurable's in 2012.  Kids are generally bigger today than they ever have been in the past and this reality has given far too many "evaluators" the green light to base a large component of their evaluation on size.  The art of talent evaluation has gone to the wayside in the similar fashion as family dinner time has gone from home cooked meals to fast food.  The desire for expediency is revealed through the evaluation of size and not talent.  If a player is big, then apparently he is closer to being ready to play in college than a kid that is more "developmental" thus meriting less stars.  Well, all 270 lbs of me played as a true freshman at left tackle in the BIg Ten and started as a soph***re at left guard.  The fact is, I would have been a 2-3 star recruit that would have struggled to garner big school attention because the business of recruiting (star system) isn't about discovering talent, it's about rewarding the genetically advanced.  
What's much more concerning to me with the star ranking system is the emotional impact it can have on young and impressionable athletes.  Many young kids, not exclusively athletes don't have the capacity to differentiate between reality and fallacy.  There's a lot of emotional stock invested by athletes in what others think of them.  When the perception doesn't gibe with what the idea of success represents, most young athletes aren't emotionally equipped to handle rejection. The flip side is many athletes aren't suited to handle the fruits of early "success", that's a byproduct of youth.  Several of the guys I played with that were the "5 stars" flamed out early because they believed they were on the path to the NFL and didn't have to work hard so they got more interested in girls, drinking and drugs.  Success is difficult to handle for every age group, just ask Lindsey Lohan.  
Dealing with labels at a young age is similar to the effects of bullying. The intent of a bully is to make the victim feel less than, while the effects of labeling a young athlete too soon has the exact same result.  Now, the intent of the star ranking system or evaluators isn't the same as bullying but the effect is a mirror image.  Bullying needs to stop just as labeling the merit of a young athlete too soon does as well.
Within the context of offensive line, the star system really reveals its invalidity.  As I say, "offensive line isn't a genetic based position, it's a worked based position".  If a player meets at least the minimum physical standards to play in the trenches, his work ethic will determine how far he ascends, not gene pool. So this begs the question, why are we casting an early die on a position that is based on development.  The same can't exactly be said for quarterbacks and running backs.  I can go right now and find the next top picks at every position except offensive and defensive line. There isn't a person walking this earth other than miss Cleo that can safely declare who in the trenches will be playing on Sundays. 
Here's a breakdown of the offensive linemen drafted in this years NFL draft.  You tell me the validity of ranking an offensive lineman too soon.
First Round:
Matt Kalil USC -- 5 
Riley Reiff Iowa -- 3 (High School Defensive End)
David Decastro Stan -- 3  11th Ranked Center
Kevin Zeitler Wisc -- 3 39th Ranked Guard
Second Round:
Mitchell Schwartz Cal-- 3 27th Ranked Tackle 
Amini Silatolu Midwestern State -- 2 Not Ranked
Cordy Glenn UGA -- 4 16th Ranked Tackle 
Jonathan Martin Stanford -- 3 44th Ranked Tackle
Jeff Allen Illinois -- 2 Unranked
Peter Konz Wisc -- 4 30th Ranked Tackle
Mike Adams OSU -- 5 1st Ranked Tackle
Kelechi Osemele -- 3 Unranked
Third Round:
Josh Leribeus -- 3 63rd Ranked Guard
Donald Stephenson Oklahoma -- 3
Brandon Brooks Miami OH -- 3 57th Ranked OT
Lamar Holmes Southern Miss -- 4
Tony Bergstrom Utah -- 3 30th Ranked Guard
Fourth Round:
Gino Gradkowski -- 3
Ben Jones UGA -- 3
Philip Blake Baylor -- 3
Bobbie Massie -- 5
Joe Looney Wake Forest -- 3
Brandon Mosley Auburn -- 4 Converted Tight End
Fifth Round: 
Adam Gettis -- 2 Defensive End
Zebrie Sanders -- 4 15th Ranked Tackle
Johnnie Troutman -- 3 Defensive End
Rokevious Watkins South Carolina -- Not Ranked
Senio Kelemente Wash -- 2 45th Ranked Tackle
Dennis Kelley Purdue -- 2 Unranked 
Ryan miller Colorado -- 5 2nd Ranked Tackle 
Sixth Round:
Mark Asper Oregon -- 2 Unranked 
Andrew Tiller Syracuse -- 3
Tom Compton South Dakota -- O 
Nick Mondek Purdue -- 3 Unranked 
Jason Slowey Western Oregon -- 0
Brandon Washington Miami -- 4 4th Ranked Guard
Matt Mccants UAB -- 2 Unranked High School Band Member
Robert Griffin Baylor -- 4
Seventh Round:
Justin Anderson UGA -- 4 7th Ranked Guard
Nate Potter Boise -- 2 Unranked 
David Molk Mich -- 3 5th Ranked Center
Marcel Jones Neb -- 3 Unranked 
Andrew Datko Florida State -- 3 35th Ranked Guard
Kelvin Beachum SMU -- 2 Unranked
Lets take a look at the Browns Starting Offensive Line
Alex Mack OC -- 2 Arguably one of the top 3 C's in NFL
Jason Pinkston LG -- 3 Fifth Round Pick FORMER H.S. DT
Shawn Lauvao RG -- 3 Third Round
Oneil Cousins RT -- 2 Third Round
Joe Thomas LT -- 4 Potentially a Hall of Famer. He was ranked 17th OT in his class well behind these two 5 star guys in his class
Jorrie Adams, Texas A&M - Adams epitomizes bust. Considered the perfect OT prospect, the Aggies were looking forward to plugging Adams in at LT for four seasons before sending him off to the top of the NFL Draft. However, Adams couldn't cut it on the o-line and was moved to the defensive side of the ball. He had a nice freshman year in 2004 and was expected to lead the defensive line as a sophmore. However, he was arrested on felony drug charges in College Station after being dismissed from the team and hasn't been seen since.
Martin O'Donnell, Illinois - O'Donnell had a very nice career as a left guard for the Illini. A freshman All-American and 3-time Academic Big Ten, he was also a 4 year starter. An All-American guard in 2007 on the Illinois squad that went to the Rose Bowl. He chose to quit instead of pursuing a career in the NFL.
The message is simple, kids don't get caught in the hype.  It's easy to start believing your newspaper clippings be them good or bad.  Focus on being the best you can be, not trying to appeal to the sensibilities of people that really have no clue to what they are looking at.  This game can prepare you for the trials and tribulations of life if you use the game and not let the game use you.  Football is a small part of your life but a huge component to your success in life.  What you can take away from this game can't be measured with stars or clocks but they can be measured within the success of your education, career, marriage, parenting and quality of life.  
If you start to feel down on what people are saying about you, think of this guy..
When you start to think you have arrived, think of this guy..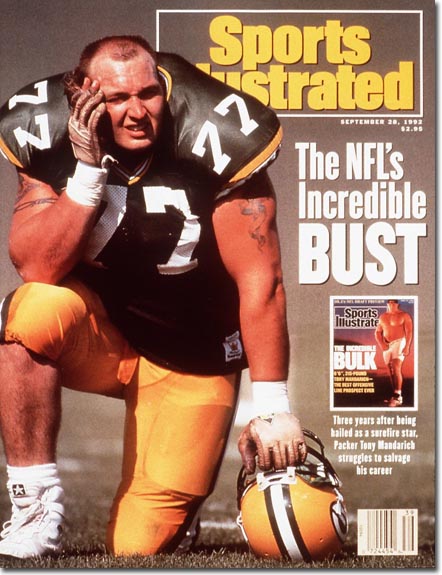 FOLLOW ON TWITTER @olineworld65